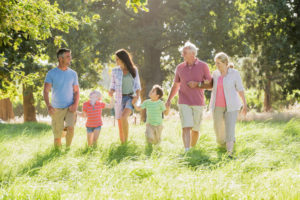 A few decades ago, in 1975, more than half of all kids had a stay-at-home parent. Now, fewer than one-third of children today have a full-time, stay-at-home parent to care for them. Spending time with adults is an essential part of a toddler's life. These kids can learn so much from parents, babysitters, and any other adult that is a part of their life.
Since toddler learning is so important, early childhood education should continue outside the classroom. Here are a few fun activities you can do with your child that will help with toddler education and brain development.
Go for a long nature walk — Going for a nature walk or an "adventure" can be a great bonding exercise for you and your toddler. Your child will begin to develop an appreciation for nature and their curiosity will take over almost immediately. Make sure you're prepared with at least rudimentary knowledge of botany and nature, because your kid will surely ask a million questions during the walk. Just seeing all the wonders of nature in real life will help your toddler's brain grow. In addition to the education and bonding benefits going on long nature walks provide, these walks are also great for some much-needed physical activity.

Bake something delicious together — Another fun activity you and your child can have that will contribute to toddler learning is making a mess in the kitchen. You can show them how to bake cookies and how much fun cookie cutters can be for kids (and adults). Make pancakes, fun cheesy meals, and anything else you want with your kid.

Work on a creative art project — Arts and crafts can be great ways for your child to express themselves and let their creativity out. They might even develop a skill that they can take with them throughout their entire life. Finger painting, drawing, building blocks and any other art project can be a wonderful learning exercise for kids of all ages.
Having fun with your kids doesn't just have to be about making a mess. Your kids can learn a thing or two as well if you do the right activities. If you want to know more about toddler learning, contact Growing Room Child Development Centers today.