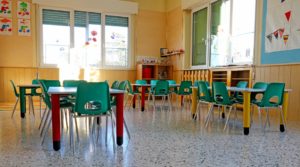 Today, less than 33% of children have a full-time, stay-at-home parent. In 1975 – only a generation ago – more than 50% of children had a stay-at-home parent—usually the mother. With these changing numbers come changing times. Families can't always afford to live off of one income, and as a result, it is becoming the norm for both parents to have full-time jobs.
This has caused a huge spike in the need for child care centers across the country. Child care centers have the same objectives but can differ in how they operate on a day-to-day basis. It's important to research (and visit) multiple child care centers before making any final decisions regarding your child's well-being. Here are some quick and easy tips for finding the best child care center in your area.
First, watch the staff closely to observe how they interact with the children. Are they warm and inviting, or cold and dismissive? Do they get down on the ground, or hover over the children authoritatively? These observations are crucial to determining how your child will be handled for up to 8 hours a day. You want to find a child care center with a staff that can properly watch and give attention to each child equally.
Another crucial aspect of researching child care centers is looking into their policy. Do they have toys that encourage learning through play or active learning? Do they provide healthy snacks? Do they allow the children to watch a lot of television? Determine your values and pick a center that aligns closely with them.
Finally, use your resources. This includes doing plenty of online research and talking to friends with children. Word-of-mouth is a highly underestimated form of research. When it comes time to make a final decision, always follow your gut instinct. Don't be afraid to ask any question at all, no matter how arbitrary or frivolous it might seem. Your child's well-being should always come first.